My work is in mixed media. Each piece takes the form of a skeletal articulation, which is sometimes paired with found objects. Typically these objects are of vintage, man-­made materials, but they can also include other types of organic matter. The result is a unique art object with an evocative story to tell.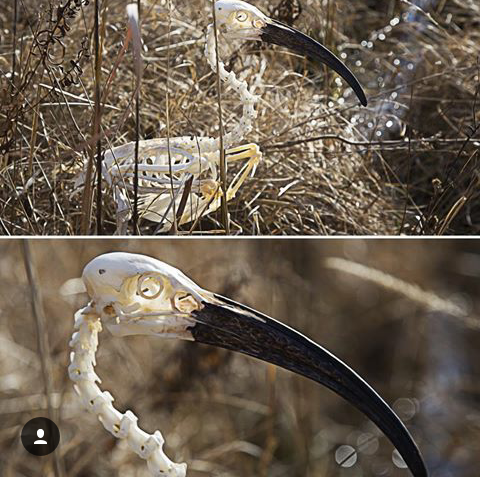 I have been actively working on my art for the past three years. When I started out, the bones I used in each articulation were found where the animal died or sourced from reputable dealers. Now I am at the point in my career where I will also receive donations from friends and clients, some of whom commission specific pieces. These are people who have found specimens or raised an animal, usually a pet, that has passed. I also pick up roadkill and regularly take nature walks to find materials. Whenever an animal with intact flesh is acquired, I remove its hide and internal organs. Everything else is dehydrated. Then the carcass is placed in one of my Dermestid beetle colonies. The beetles strip the animal down to its bones. Once this step is complete, the skeleton is taken out, sterilized, and whitened. At this point the bones are ready to be reassembled in process is called articulating. Sometimes I will articulate the animal as they are found in nature, but I really like to anthropomorphize these creatures by posing them as if they are engaged in activities normally reserved for humans. Other times I will mix and match bones to create fantastical chimeras, hybrids that call to mind an old folktale, myth, or legend.
The inspiration for each piece can vary based on the materials I source. For example, an idea may come to me while I search vintage or antique stores, consider the display case I have to work with, or when I find something unusual in nature. Many times one little item may launch the construction of a whole scene. I'm also inspired by memorable literary characters, pop culture, everyday objects, and issues associated with living in a modern society.
Often an idea just clicks into place and the story generates itself. This is to say that when I start the articulation, it can take on a life of its own and veer wildly from the original plan. Sometimes it spawns ideas that cannot be portrayed as a single articulation because an involved narrative emerges for the character I've created. When that happens, I try not to get overly elaborate with the articulation. Rather, I flesh out the story just enough so that it conjures ideas and feelings with the use of specific objects in the composition. From there I leave it up to the viewer to absorb what is presented in the final scene and envision an entire backstory for themselves. I enjoy the various points of view that arise from taking this lightly ambiguous stance.
My primary goal is to challenge the perception that death and strange materials are too macabre and weird to be funny, whimsical, sometimes somber, and all­in­all thought provoking. If my art can elicit some kind of response from the viewer, then I achieved my goal.